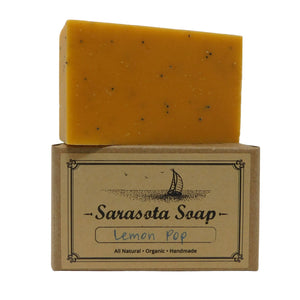 Lemon Pop - 4oz Bar
Introducing our zesty and oh-so-scrumptious Lemon Poppyseed Soap! Prepare for a sudsy adventure that will leave you feeling refreshed and smelling like a walking lemon orchard. Imagine bathing with a slice of lemon heaven while indulging in a poppyseed scrub that tickles your skin like a mischievous feather.
This soap is the ultimate breakfast for your senses, providing a burst of citrusy goodness that will make your nose do a happy dance. As you lather up, the gentle exfoliating power of poppyseeds will make your skin sing with delight, bidding farewell to any unwanted dead skin cells. Who needs a spa when you have a lemony shower party every day?
Our Lemon Poppyseed Soap is handcrafted with love and organic ingredients, ensuring a luxurious experience without any harsh chemicals. 
Whether you're a morning shower enthusiast or a nighttime bath devotee, our Lemon Poppyseed Soap is the perfect companion. Just be warned: it may cause spontaneous singing in the shower and uncontrollable cravings for lemon meringue pie. But hey, that's a small price to pay for clean, moisturized, and ridiculously happy skin!
So, why settle for ordinary when you can embrace the zestiness of life with our Lemon Poppyseed Soap? Get your hands on this citrus sensation today and let the lemony bubbles take you on a whirlwind journey of shower-time happiness! Your skin will thank you, and your bathroom will become the talk of the town (or at least the talk of your family and friends).